Blackboard is a web-based course management system that allows students and faculty to take online classes and/or use online course materials to supplement in-person learning. Instructors can teach students using course materials, quizzes, discussion boards, or a combination of Blackboard and face-to-face interaction.
Blackboard is completely committed to providing product experiences that meet the highest global accessibility standards. Learn more about Blackboard Accessibility and how to make Blackboard products more accessible.
What Is Cuny Blackboard
CUNY has licenced Blackboard Learn, an enterprise-level learning management system, for use on all CUNY campuses. Students and faculty can use Blackboard Learn to participate in online classes or to supplement face-to-face instruction with online materials and activities. Your CUNY Login credentials are used to access Blackboard, as well as other CUNY applications such as CUNYfirst and Degreeworks. Please see the links below for more information on how to access and use Blackboard.
Based on CUNYfirst data, Blackboard course shells are generated for every CUNY course. If faculty are unable to see courses in Blackboard, they should check their CUNYfirst course assignments and have their departments follow up as needed if courses have not been assigned to them. If you have been assigned courses in CUNYfirst but are unable to access them in Blackboard, please contact your campus Blackboard representative. Courses are available in Blackboard between 24 and 48 hours after enrollment or assignment in CUNYfirst.
Blackboard Tips for Student
Mozilla Firefox and Google Chrome are the best browsers to use.
If you use a public computer (for example, in a computer lab), close all browser windows after logging out of Blackboard.
Save your work frequently while entering text as a precaution, for example, by using "copy-and-paste" and (for faculty) attaching files to "items" rather than entering longer text directly
If you do not see your course listed, please check with your instructor to see if it is still available. If faculty do not make courses available to students, they will not appear on Blackboard.
Make your Citymail account the default email address in Blackboard. You will not receive emails from your instructor unless you do so. For step-by-step instructions on changing your email account, see the link below, "Blackboard User Guide for Students."
Making a Bookmark for Blackboard Login
As an alternative to logging into Blackboard via the CUNY.edu Login drop-down menu, you can create a Blackboard login bookmark.
It is important to note that bookmarking the CUNY Login page will not work. More information can be found in the FAQs.
For Firefox on Windows…
1. Go to cuny.edu.
2. Hover your mouse over the Log-in menu.
3. Select Bookmark This Link from the right-click menu on Blackboard.
4. Save the bookmark in the folder of your choice.
In Internet Explorer…
1. Go to cuny.edu.
2. Hover your mouse over the Log-in menu.
3. Right-click Blackboard and choose Add to Favorites…
4. Save the favourite in a folder named after you.
For Firefox and Safari on the Mac
1. Go to cuny.edu.
2. Hover your mouse over the Log-in menu.
Blackboard Login Instructions
Access to Blackboard is available via the www.cuny.edu menu bar and direct access URLs on campus websites. Your CUNY Login credentials are used to access Blackboard. Before you can access Blackboard, you must first claim your CUNYfirst account at https://home.cunyfirst.cuny.edu/.If you sign in to CUNYfirst as george.washington76, your CUNY Login will be george.washington76@login.cuny.edu.
How to Access Cuny Blackboard
You can access CUNY Blackboard in two ways: through the CUNYfirst portal or directly through Blackboard.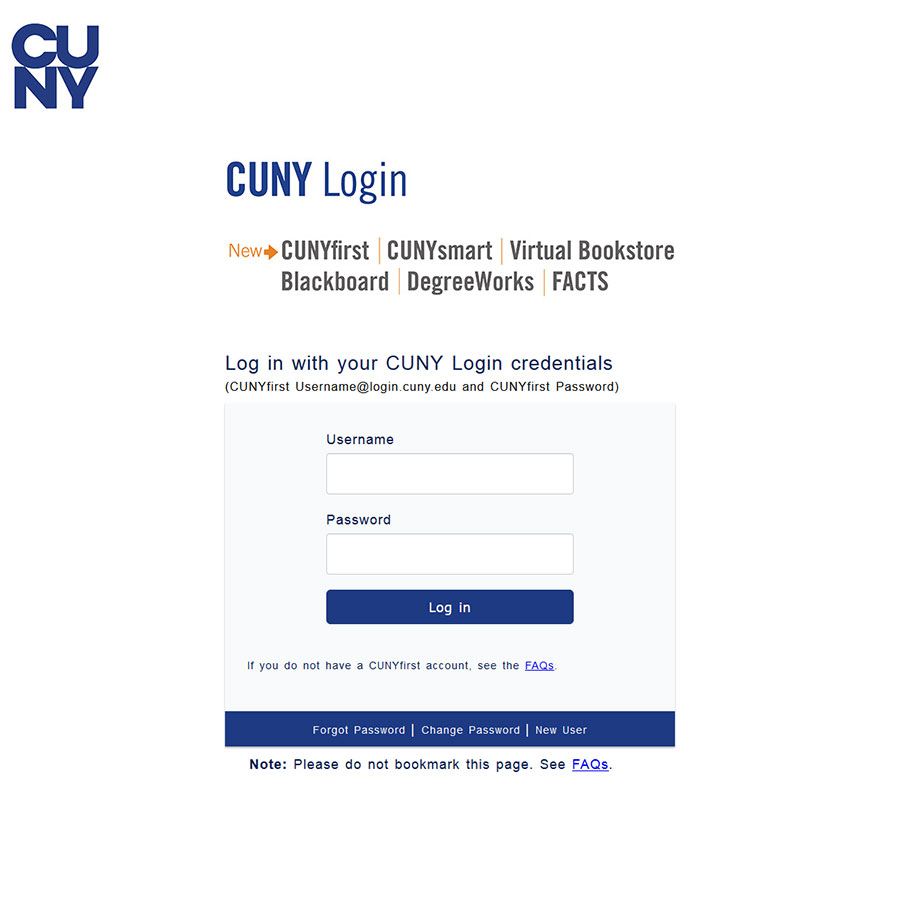 Log in using the CUNY Portal.
Navigate to cuny.edu in your web browser.
Click the Portal Login button.
Click the Login button after entering your CUNY Portal username and password.
Select the Blackboard link.
The Home tab will be active on the blackboard elearn page. The My Courses module displays courses.
Log in to Blackboard directly.
Navigate to www.cuny.edu in your web browser.
Place your cursor over the Login link, then click on Blackboard (bbhosted.cuny.edu) on the left side of the page.
In the small window that appears, enter your CUNY Portal username and password and click the OK button.
The Home tab will be active on the blackboard page. Courses are displayed on the right side of the screen in the My Courses module.
Resetting your CUNY blackboard password
Log in to CUNY Portal and follow the steps outlined below to change your CUNY blackboard login password.
Navigate to the Cuny Portal.
Choose the "Account and Password Reset" option.
Enter your last name (case is unimportant), your 9-digit Faculty ID number (Social Security number), and your birth date on the user validation screen. Select the Next option.
If the correct data is entered, click Confirm The Password Reset page displays your username as well as the option to create a new password. In the second field, confirm the new password and click Save.
After clicking Save, you will be taken to the CUNY Portal page. To access Cuny Blackboard, enter your username and new password.